"An eye for eye only ends up making the whole world blind."
The Basics
Assumed Name: Kaoru Stigma
Blade Name: Kaze No Stigma
Blade Type: Katana
Race: Spirit
Gender: Female
Age: Early 20's|Actual age is unknown
Place of Birth: Japan, Shirakawa
Untold Story: A Human spirit is cursed into this form by committing a sin and is therefore given to a contractor whose duty is to help the spirit find redemption, salvation from their damnation. They are given two forms first one is the type of blade which is choosen by the contractor, yet also give a human form which bleeds, can get sick, or die from fatal wounds.
The spirit of the cursed blade Kaze No Stigma is a woman whose sin was killing in cold blood no reasoning behind these brutal killings just the sweet pleasure of ending someone's life was enough.
Contracted to young man by the name of Kento Ino. He vowed to help the spirit find her salvation by using cursed blade to defend the weak from those who seeked to harm them. They spent over a century together fighting against the dark forces of world only to have his life snuffed out by the very people he promised to protect.
The tomb in which he was laid to rest in was raid for buried treasure and the  katana which all items are now being sold off at a glamorous party for charity being held at the Rendezvous.
Preferred Group: Guessing Vagabond
Physical Appearance:
Height: 162.5cm
Weight: 118 pounds
Body Type: Bust and hips are basically the same size. The waist is slightly smaller than the bust and hips.
Skin: Fair
Eyes: Emerald Green
Hair: Black
Scent: Momo (Peach) – Spring
Any Other Physical Distinctions: Multiple tattoos and Scarring
Katana Form: Is seen with elegantly written Japanese engraving which translates into " New eras don't come about because of swords, they're created by the people who wield them" this engraving is also a pictured tattooed on the human form.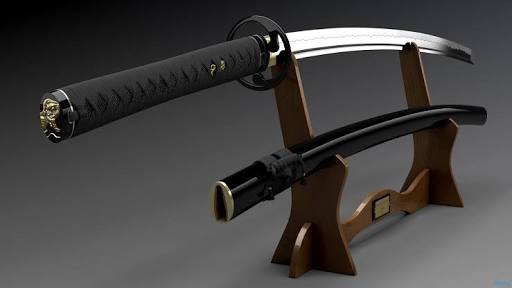 Personality:  Kaoru has shown many different sides to herself. One is where she's polite, kind and somewhat shy. However, can completely transform into a ruthless killer, who only kills what she deems "right". Despite that her claims to not care about people, she has shown signs that she does care for people and shd shows this through unusual means, but nonetheless she truly does care for others' well-being. Her only love was her contractor but his timely death and how he died has left vengeance in heart could set her back from path or redemption?
Skills:
Fighting Group: Able
Element: Wind
 Project air/wind or sound in a way that allows them to cut through matter from a distance. Although this attack does usually slashing damage, some users are able to focus it into single piercing stab like immaterial bullet.
Shapeshift their appendages from their  existing limbs mainly their arms into blades and attack freely without a contractor.
Weakness well like said still human so can be easily snuffed out, or caged away into the enchanted sheath.